Customer Reviews
Write a Review
Ask a Question
Filter Reviews:
anxiety
pain
sleep
relief
1000
arthritis
C4 Healthlabs
CBD oil
dose
inflammation
09/10/2021
J R.

US
Good for Dogs, Too
I have a rescue dog that spent the first few years of his life on the streets of Korea. He apparently contracted pneumonia while very young and never received treatment for it. The result is that he has a permanent retching cough due to scars on his lungs. He sleeps with me and was waking me with his coughing. I started giving him 2 drops of CBD oil on his night time treat before bed. It has helped a lot. Most nights he makes it through without coughing and we both sleep better. I also have a 15 yr old dog who is very arthritic and getting senile. 2 drops on her cookie at bedtime helps her have a much more restful night. Without it, she wakes up several times and is generally restless, moving around and digging in the carpet to try to get comfortable. Rescue dog is 17 pounds and old dog is 25 pounds. I use the 1000 citrus flavored oil.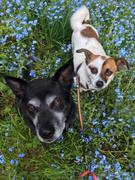 09/03/2021
Vannessa M.

US
Works as described
I brought this product to help me to sleep, I've used my pills to try to get a good nights sleep but none really helped. This product did. I place it under my tongue at bedtime a within several minutes I can feel the calm affect of sleep starting, before long I am totally asleep.
08/23/2021
John

United States
1st day trying C4 full spectrum CBD
I am currently cycling off anxiety meds which increased anxiety and nerve pain and poor sleep. I am a military combat veteran and am so thankful to have stumbled upon C4 Labs. My 1st time trying this product and I know I have found a solution not a band aid. Im calm, im sleepy, and in a much better mood overall. I do wish the VA or health insurance would cover some of the cost because I am confident this would help other Vets with PTSD and anxiety. They even gave me a discount for being a disabled Vet! Please please please do not change the quality of your product!
08/11/2021
Anonymous

US
Excellent Product
I've had success using this CBD oil Customer service is also excellent.. I would not deal with any other company
07/25/2021
Anonymous

US
Reduces pain
Lower back arthritis pain is less and livable. Can tell when daily use is forgotten.